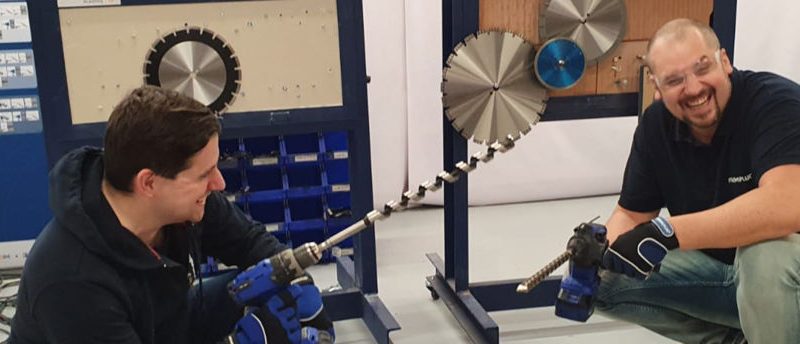 What is this project?
Webinars, i.e. seminars with the participation of Rawlplug experts conducted online were planned to be launched after the implementation of Rawlplug Academy®. However, due to the current situation, in which many people had to stayed at home, we accelerated our activities and moved the training to online training rooms in a new, interactive and dynamic form.  We share our know-how with clients in order to broaden their knowledge and improve competences, in effect strengthening our role as a market expert. Online seminars are an interesting combination of film presentation and live showing product hits and services from the Rawlplug® offer. How to choose them correctly? What are their advantages over competitive products? What proves their uniqueness? What are their technical parameters? How to install them properly? Answers to all these questions will be provided during online meetings with Rawlplug® experts.
What is the project about?
• Each webinar relates to a specific product presented in a selected approach, eg: comparison of technical parameters to competitive product, assembly presentation, proper selection of products or a battle of sales arguments between our experts.
• Webinars are conducted live, with the participation of Rawlplug experts, but there will be also guest starring specialists in given products areas, as well as even the President of Rawlplug, Radosław Koelner!
• During webinars we use specially recorded videos with the participation of our specialists, where in a short, dynamic, interesting and often funny way we familiarize our customers with our amazing products. Each film lasts max 1 to 3 minutes and attracts the viewer's attention with its intensity.
• Mini-theoretical lectures with a combination of presentation and video material take place during webinars, there is also a time for questions and discussion, and for those who can stay longer – on request, we can carry out product tests documenting their competitive advantages live.
Who is it for?
Webinars are intended for customers and distributors from around the world. Webinars are designed in a way that takes into account the potential and specific business needs of individual markets and specific groups of professionals.

How is it implemented?
Webinars will be held according to a schedule that will be updated on a regular basis on a specially designed site: https://www.rawlplug.com/en/rawlplug-academy/webinars, where you will also find detailed registration instructions for specific online meetings with tool guidelines.
Each webinar will last about 30-45  minutes, with an option to extend it when you want to see the product test live.
What are the key benefits of Rawlplug webinars?
• MATCHING We provide a tool that perfectly fits the current situation, which does not stop us from acting, and therefore we are preparing our customers and ourselves for effective return to work in normal conditions.
• RAWLPLUG OFFER PROMOTION This is one of the ways to support sales. Through education, in accordance with the assumptions of the Rawlplug Academy® program, we build our credibility as brand experts who know their products and services perfectly, are able to teach how to use them and present their competitive advantages.
• INTERESTING MESSAGE Webinars are short, dynamic and enable live conversation, so they focus participant's attention, engage in discussion and promote building relations online in a friendly, informal atmosphere.
• PARTICULARLY The message of webinars is very specific – we focus on specific competitive advantages or instructions, which affects the efficiency and speed of learning.
• COMFORT You can participate in webinars from any place you want, you just need a device with Internet access.