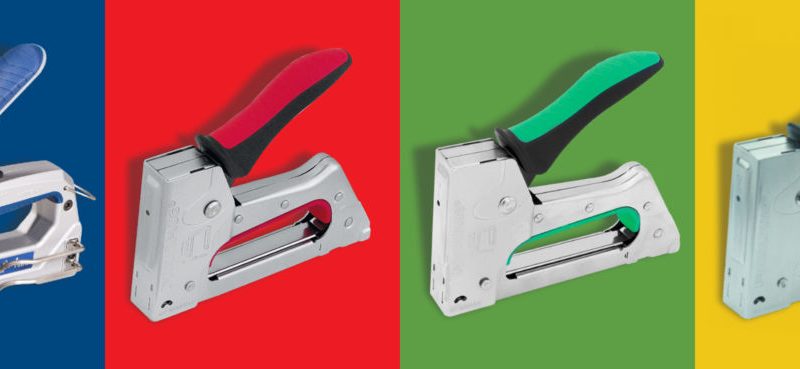 Although Rawlplug's flagship products are fixings, our offering also includes a wide range of power tools, foams and sealants, as well as direct fastening systems. Let's take a closer look at the latter. Rawlplug's staplers are available in as many as 17 models, which proves beyond any doubt that our expertise when it comes to fastening is truly best in class.
Carpentry, upholstery, construction and decorative work. Fixing roof covering and insulation as well as low-voltage cables. Stapling and nailing. Staplers are really versatile: they can be used in an extensive range of applications, from professional construction work, to industrial plants, to offices. These inconspicuous gadgets will come in handy in any home, especially if you're fan of doing interior decoration and other DIY work.
Rawlplug staplers – what does the range include?
Rawlplug's range includes as many as 17 staplers as well as a wide selection of compatible staples, nails, and pins. How do you match the right product to your needs? All staplers are colour-coded to help you choose:
green line – staplers for wide staples, designed for professional use
red line – staplers for decorative and finishing projects
yellow line – staplers for thin staples, designed for delicate work
grey line – staplers designed for fixing low-voltage cables
Staplers with extra (brown or purple) colour coding on their packaging are designed for upholstery work and can be used with nails and pins.
The staples are also colour-coded in the same way as the staplers, which makes it easy to match the former to the latter (and vice versa). The product range is easy to navigate, and even those who are new to DIY or interior design should be able to find the right item quickly and without difficulties.
We know everything about staplers. Let's see what makes Rawlplug's products stand out!
Rawlplug's staplers: carefully designed and perfectly built, in every respect. This makes working with them more comfortable and faster. Here are the key advantages of our staplers:
Lightweight and comfortable to use – Rawlplug's staplers are made using innovative plastic and metal alloys. The tools are lightweight, making them comfortable to operate even during long hours of work. The ergonomic design and non-slip handle, which is also foldable, additionally contribute to the high comfort of use, also making storage and transport of the staplers very easy.
Rugged design – flat springs, a riveted steel body and rubber materials used in the areas that come into direct contact with the hand: all of this makes Rawlplug's staplers more durable, longer lasting, and more efficient.
They can be used with a wide variety of materials thanks to driving force adjustment feature.
The product's functionality can be checked before the purchase. Rawlplug's staplers are sold in transparent "Try Me" packaging. This, together with the colour coding, makes choosing the right product a really easy task.
Detailed information about Rawlplug's staplers, their applications and choosing the right staples can be found in the product leaflet available HERE