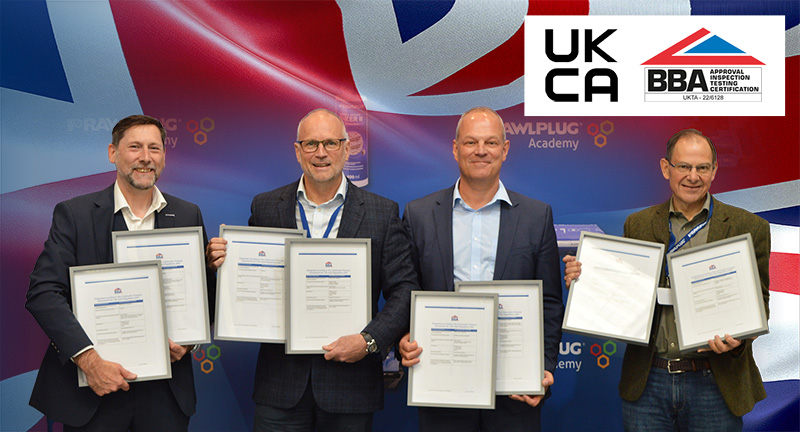 We are delighted to announce that Rawlplug Ltd, Rawlplug's British subsidiary, is the first fixing manufacturer operating in the UK market to have obtained several UKTA technical approvals covering the brand's products. Both the UKTA approvals and the UKCA marking are now applicable within the United Kingdom, having replaced the formerly recognised CE and ETA systems.
Hardy Giesler, CEO of BBA (British Board of Agreement), and Bill Hewlett, Technical Director at BBA, both personally visited the Rawlplug Academy in Reading (UK) to present Dr. Pietro Grandesso, Managing Director at Rawlplug Ltd, with the UKTA certificate comprising selected products within the Rawlplug portfolio.
The UKCA (UK Conformity Assessment) mark is a new product marking applicable to the products placed on the UK market. It has replaced the former CE marking scheme.
The UKTA (United Kingdom Technical Assessment) is analogically required for the products available on the British market as an equivalent of the former ETA (European Technical Approval) certification.
Both these marking system are mandatory for the products placed in the United Kingdom's market since January 2021. Starting from January 2023, they will also apply to all products that can be used in the United Kingdom. The former CE and ETA marking schemes will only be recognised by that point.