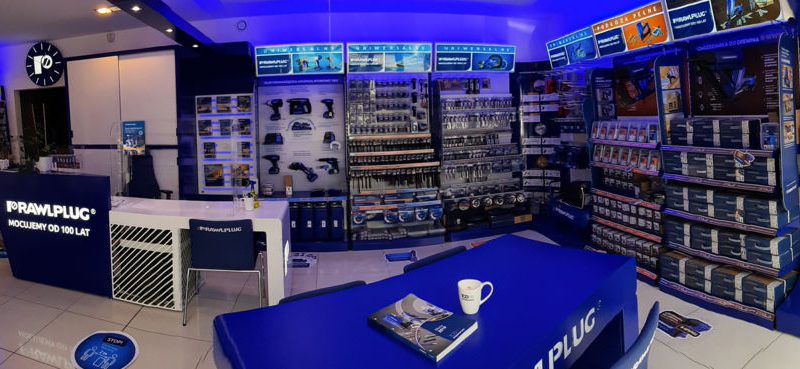 One thing is a beautifully designed display. Excellent space for tests and convenient training facility make numbers two and three. We have just launched a four-zone showroom marked with the familiar blue logo at the entrance in the capital city of the Lesser Poland region.
Enticing with the scent of the new and exquisitely illuminated showroom in Krakow is divided into four parts functioning as the display, office, testing, and relaxation (the coffee is on us) zones. Its clear and intuitive layout has already become Rawlplug's trademark. The convenience of our customers as well as the capacity to create dedicated spaces where consultants, trainers, and salespeople can feel truly comfortable are two of our invariable priorities.
Our main goal was to create a showroom demonstrating Rawlplug's comprehensive offering. And we managed to achieve it by placing products not only on racks but also on special wall panels (facade and insulation solutions). All of them are described on the attached labels. The inspiration area, comprising a selection of flagship products, is delimited by an illuminated canopy, and the entire showroom is bathed in delicate blue and white light produced by colourful ceiling panels.
What about the breakdown into individual categories? It's simple. What about choices made on the basis of transparent, visually appealing, and informative labels? Quick. And the features allowing customers to test products on the spot? Who would be strong enough to oppose the temptation (repeatedly) of shooting several nails with the R-SC40II gun?
Krakow is yet another excellent example showcasing our attitude to the Rawlplug point-of-sale display system. Its systematic breakdown divides products into thematic groups, and the place we choose always becomes optimally arranged.
So everyone is invited to visit our place in Krakow (and not just there). We guarantee a full-package experience: comfort of choice, expertise-based assistance, knowledge-building training, and highly practical hands-on testing capacities. And all of them aligned with the highest quality standard which Rawlplug invcariably represents.