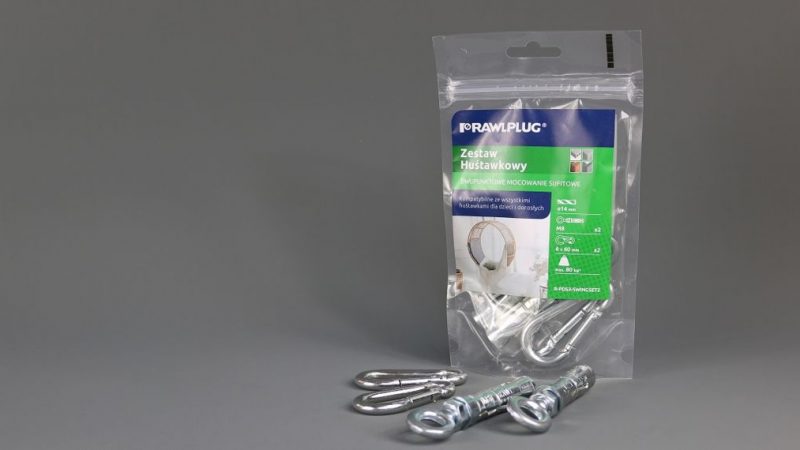 Rawlplug's certified swing fixing sets are now conquering the ​​​​​​​DIY market! The new solution from Rawlplug is intended not only for installation of swings, but also seats, hanging ladders, and sports equipment.
The all new and long-awaited sets of fixings intended for installation of swings and for similar applications have turned out a genuine sales hit over the recent weeks! "This is a truly unique solution across the Polish market, but also in foreign markets, because – to the best of our knowledge – none of our competitors offers similar sets," announces Waleria Baszyńska, Promotion & Project Category Manager from Rawlplug Poland.
This means that the following five sets are being introduced into the Rawlplug product portfolio:
Solution intended for ceilings:
R-PDS3-SWINGSET1 – one-point fixing
R-PDS3-SWINGSET2 – two-point fixing
Solution intended for wooden structures:
R-PDM3-SWINGSET1 – one-point fixing
R-PDM3-SWINGSET2 – two-point fixing
Solution featuring a bonded anchor intended for diverse substrates:
R-PDL3-SWINGSET1 – two-point fixing
These five sets comprise universal solutions dedicated to a majority of base materials and nearly all kinds of swings, cocoon-type chairs, seats, hanging ladders, suspended seats, and – importantly enough – sports equipment available in the market, including punching bags and balls, OCR slings, and many more.
The new fixings have been created to ensure safety in the first place, as the hook hanger commonly known as a swing or worm hanger meets virtually no safety requirements, which is why we have decided to design safe and universal sets dedicated to swings, whose every single component is certified, while the entire sets have been tested for strength properties at our R&D Department.
There is more to it, since our fresh set has just received a special safety certificate!
"As the only supplier in Poland, and probably also in Europe, we have obtained a certificate of conformity of our sets with the Toy Directive as per the PN-EN 71-8:2018 standard," proudly and joyfully announces Daniel Mazur, Manager of the Engineers and Investment Sales Department. PN-EN 71-8:2018 is a standard to which all toy products as well as their fixing and mounting pieces must conform. Having received such a certificate, we can market these types of products in accordance with the current regulations. So far, three of our swing sets have been tested and certified in this respect:
R-PDS3-SWINGSET2
R-PDM3-SWINGSET1
R-PDM3-SWINGSET2
"Within a few weeks, we should receive two more certificates for our remaining swing sets. This process is handled by an independent and accredited testing institute," Daniel adds.
Here are some of the main characteristics that allow our swing sets to clearly stand out among other products on the market:
SAFE AND RELIABLE – our anchors are certified, which means they are subject to European/National Technical Assessments;
UNIVERSAL – they are solutions suitable for most substrates;
COMPATIBLE – they match most swings, hanging chairs, seats, hanging ladders, ropes, etc.;
COMPLETE – all items required for installation are included in the set;
QUICK – installation and dismantling in just a few seconds.