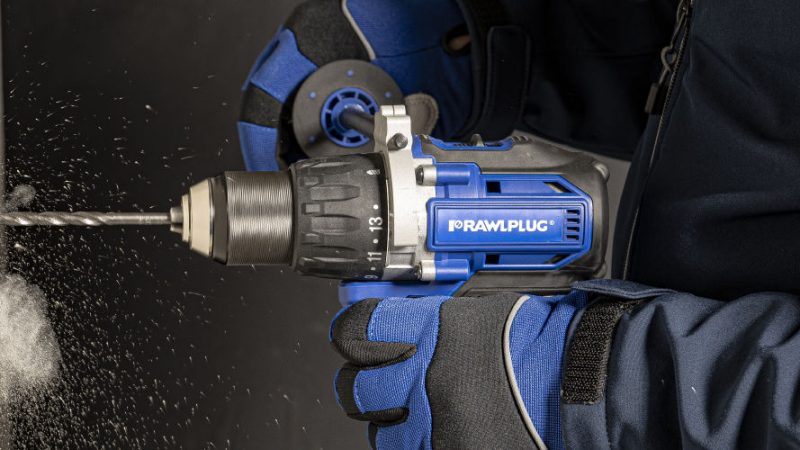 Powerful, efficient brushless motor. High torque. A wide range of clutch settings and a two-speed transmission to effectively tame the power of the beast. Our flagship drill/driver has arrived in the market.
The R-PDD18-P100 is the most powerful member of our new 18V drill/driver product family. The three models (in addition to the R-PDD18-P100, the lightweight R-PDD18-55 designed mainly for lighter assembly work and the compact R-PDD18-70) are direct successors to the R-PDD18, which has been very well received by customers.
If you consider that RawlDrivers are the royal family, then the R-PDD18-P100 certainly sits on the throne.
– Despite its compact size, it is extremely powerful and durable, especially for a drill/driver with a motor and gearbox producing up to 100 Nm of torque – said Jarosław Bednarczyk, Rawlplug's Product Management Team Leader.
Impressive in performance, the RawlDriver actually feels great in the hand and is well balanced, in part thanks to the larger 5 Ah battery. The huge power reserve of the special-purpose drill/driver allows you to work under virtually all conditions. The R-PDD18-P100 works superbly in wood (holes with a diameter of 80 mm are not a problem), and the additional handle with its straight grip facilitates control during more demanding operations (e.g. drill bit drilling in wooden structures) and effectively protects the wrist.
The R-PDD18-P100 electronic torque clutch allows a specific speed to be assigned to each step of the adjustment ring setting (irrespective of how far the switch trigger is depressed), providing greater control of the power tool and reducing the risk of surface and joint damage.
– R-PDD18-P100 is a bit like a gentle bear – said Jarosław Bednarczyk. – It is a monstrously powerful machine, but – thanks to the its precision electronics – the clutch is coupled to the motor, which automatically adjusts the speed on the spindle.
Thanks to its drilling and hammer drilling functions, the flagship RawlDriver can be turned into a handy belt-mounted drill ready to bite into concrete at any time. In hard-to-reach, poorly lit spaces, the reliable LED light will always show you the target.
The flagship RawlDriver is available in several kits. The most feature-rich version is the R-PDD18-P100-XL2. The kit includes the drill/driver, two batteries, charger, protective gloves, RawlCase system box and user manual.