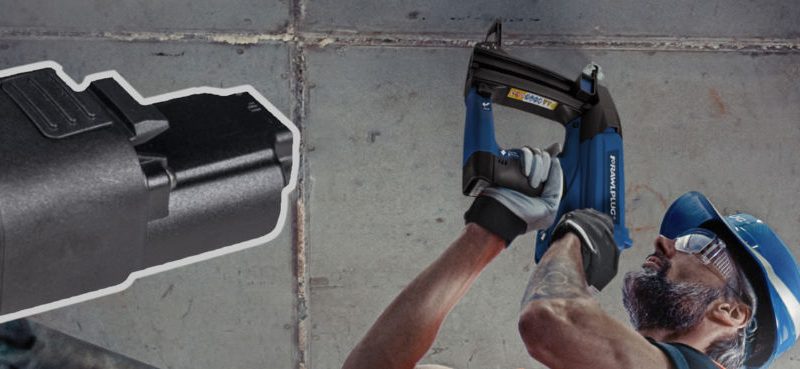 If you compared battery development work to the Apollo space project, Rawlplug would be about to leave for the moon. Our very first, small – but still ours – battery for the R-SC40II and R-WW90II nailers is one giant leap for the company on its way to sustainability.
Anyone who has ever held the R-SC40II in their hand knows how comfortable it is to work with a tool that weighs only 3.4 kg (being the lightest gas-powered nailer available on the market), easily managing to handle concrete and steel applications, which has made it one of Rawlplug's flagship products – and not without a good reason One of the tool's biggest advantages is its exceptional capacity. 9,000 nails – that's how many the R-SC40II can drive running on a single battery charge. That's more or less (rather more) an equivalent of a day's work on a construction site.
"Our nailer is also really fast," says Tomasz Hojka, responsible for product training at Rawlplug. "We once tested it for in-house purposes. In the time it took my colleague to drive a single plug, I managed to take 14 shots with the nailer. When speed is at stake, the R-SC40II is second to none."
It's light, fast, and efficient, but the R-SC40II also needs the right battery to run smoothly. Not necessarily powerful, but a reliable one for sure.
"That's why we decided to design our own batteries, starting with a relatively simple 7.2V pack to power our nailer," says Paweł Bunio, Head of Research and Development at Rawlplug.
The first talks on this topic took place over two years ago. What followed was a process of laborious preparations.
"We initially had some logistic difficulties," says Paweł Bunio. "Our engineers and procurement specialists had to expand their expertise, first by acquiring suppliers, and then by having them meet specific requirements concerning compliance and adequate quality of raw materials and components. That was by far the most time-consuming part of our job."
Such a logistic baptism of fire was necessary, because the mission to create Rawlplug's own 7.2V battery, which we now know was successful, was an important piece in a much more complex puzzle – yet only one of many.
"This was a test for us," says Paweł Bunio. "For our new battery testing team, for our new design and production processes, for our newly established production department, and finally, for our employees led by Dominik Graba, Head of Rawlplug's Assembly Department, all of whom were additionally trained in precision soldering and assembly of fine battery components. In other words, the goal was not just to roll out the 7.2V battery in itself, but to build expertise enabling us to implement further projects."
What sort of expertise? This expertise is presently reserved for the testers and other persons directly involved in the pursuit of Rawlplug's plans for the near future. However, it is no secret that the mission code-named "7.2V for R-SC40II" is another step on the path of the company's sustainable development, where maximum independence and capacity to deliver a comprehensive range of services – a product being but a component of a larger whole – play paramount roles.