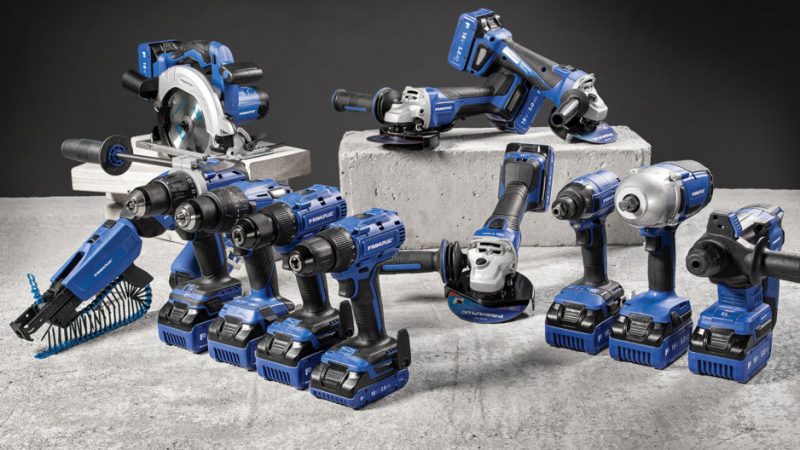 What remains constant about the new proposal for the customers is the standards, which the users of our tools will find familiar. All Rawlplug-branded products invariably meet the highest quality levels and provide full handling comfort. However, we have decided to go further and adjust more parameters to individual needs.
Our new angle grinders provide a rotational speed adjustment feature, which significantly extends the spectrum of their safe applications. The new drill drivers are now more diversified in terms of weight, size, and torque to meet the needs of different customer groups.
Drill drivers – three-in-one
The extended range of drill drivers from Rawlplug comprises three tools: a lightweight tool for lower-duty works (e.g. furniture assembly), a multi-purpose device, and a heavy-duty version. The latter is bundled with a comfortable handle to make the tool easier to control and safer to use. All the new drill drivers run at two speeds to match the rotational speed and torque requirements of the job at hand, and they feature planetary gears made of high quality steel. Their light and compact design makes them ergonomic at work and reduces fatigue in prolonged use.
The lightweight device, i.e. the R-PDD18-55-M2 18V Drill Driver, offers 16+1 clutch settings, enabling the user to optimise torque depending on the base material type. The planetary gear of this model generates up to 55 Nm of torque. It comes with two 2.0 Ah lithium-ion batteries and a 60-minute charger.
The multi-purpose tool – the R-PDD18-70-XL2 18V Drill Driver – also operates in a setup of 16+1 clutch positions, but its gear provides up to 70 Nm of torque. In this case as well, the user receives two lithium-ion batteries, yet of larger capacity (5.0 Ah), and a quick 50-minute charger.
The machine intended for more demanding applications, namely the R-PDD18-P100-XL2 18V Drill Driver, is suitable for percussion drilling in brick and lightweight concrete. Its powerful planetary gear generates up to 100 Nm of torque. The user has 14+2 clutch positions to choose from and a percussion drilling function. The device comes with two 5.0 Ah lithium-ion batteries and a quick 50-minute charger.
Angle grinders – new models, more power
Two new angle grinders have also been added to the Rawlplug portfolio. They are even more powerful and provide higher grinding ergonomics compared to the machine formerly in the offer. Both – just like our first angle grinder – feature a profiled rubberised handle for improved grip and comfort. However, the new power tools also feature a rotational speed switch, which proves particularly useful when working with different materials and accessories.
What sets them apart is the on/off switch type. The R-PAG18-SV-XL2 18V Angle Grinder includes a sliding safety switch that prevents the user from starting the device unintentionally.
The R-PAG18-PV-XL2 18V Angle Grinder, on the other hand, features a paddle safety switch mechanism, which means that it only works when the user is pressing down on the paddle, while it turns off immediately when the operator releases the switch. In other words, the power tool automatically switches off once the user has put it down.
In certain countries, only devices equipped with this type of switch are admitted to the market. This means that adding such a power tool to the Rawlplug portfolio opens up a number of new business opportunities.
Our grinders are the perfect woodworking solution, making it possible to debark and sand without damaging the material. They are also excellent tools for grinding and cutting of steel, including carbon steel, as well as of concrete elements and reinforced concrete lintels.
The new power tools from Rawlplug represent an excellent option for customers with diverse requirements. Having extended our offering, we are now capable of addressing many different needs more precisely, regardless of the sector in which the customers use our products.