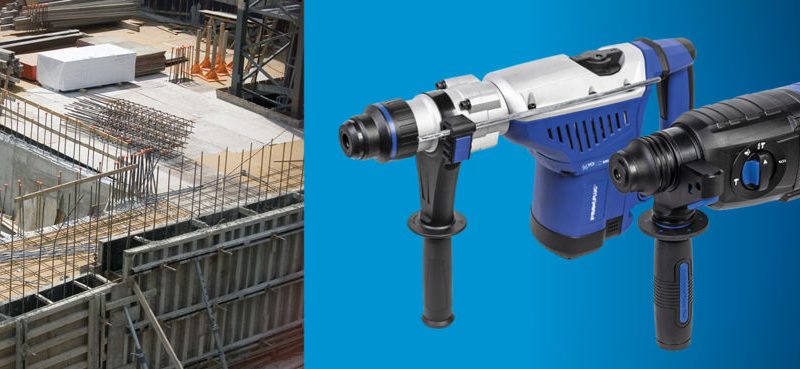 Excellent impact energy transfer, impressive performance, and full range of applications. With these two aces from Rawlplug, your hand is the strongest among competitors. But once you're done winning in cards, you can simply get back to work.
The double premiere of the corded SDS-Plus and SDS-Max means that the fleet of blue-coloured power tools, proudly bearing the R quality symbol, has just received further two flagships. Both are simply fantastic in operation (been there, checked that) regardless of the task they are used for. And both can make the time left until your knock-off time really fly, instead of dragging on endlessly.
With great power comes… great performance. What the SDS-Plus (R-PRH-26850) hides inside its robust housing is an 850 W motor capable of generating up to 2.5 J of impact energy. This rotary hammer can drill in concrete up to a diameter of 26 mm. The SDS-Max (R-PCH-411350) delivers 1,350 W of motor power, 13 J of impact energy, and 42 mm of maximum drilling diameter.
But these are just specs. The most important thing is how the SDS-plus and SDS-Max prove their worth on the job. Out of modesty, let's just say they're awesome. The efficient percussion mechanism makes the Plus capable of drilling in all construction materials, while the Max is second to none when it comes to working in concrete and reinforced concrete. And these are but some of the numerous perks of our versatile machines, which also offer such features as chasing or chisel positioning (removing tiles and old plaster, or light-duty demolition works – no hassle).
Ergonomics? Working comfort? Safety? Triple yes. The Plus will endear you with its intuitive and extremely comfortable working mode selector and a compact light-weight body. The Max does the same with its advanced vibration damping system and a coupling which disconnects the drive whenever the drill bit gets jammed in the material. The SDS-Plus and SDS-Max chucks provide full compatibility with a wide range of accessories available on the market Is there anything else you might wish for?
Simply put, the SDS-plus and SDS-Max are truly the bee's knees, and even something more. If we didn't have them already, we would pick them on spec. But we do, and we hope you get them too.